New Members
As always, we start by welcoming New and Returning Members:
Optilan Ltd.
Jones AV Ltd.
Nathan Kelly
JM67 Ltd. T/A Fusion Services
Jess is here to boost the FIA's online profile and presence
The FIA is working to improve the quantity of useful information and guidance that it publishes, and to get it to a wider audience. To this end, we've contracted the service of Jess Shaughnessy. Jess is a content and social media specialist and is very familiar with the fibre optic industry; you may have seen her recording video at the FIA Summer Seminar least month.
One of her roles will be to gather updates, news and other content from FIA members. So, expect to hear from Jess soon. Please help her where you can. If you have any positive stories about company or individual achievements or think there are any issues that need to be highlighted, let her know.  It could be good opportunity for some self-promotion.
Jess will then hone the content and get it out there on social media, our website and future editions of this newsletter. We're confident that this will increase the FIA's presence and reputation.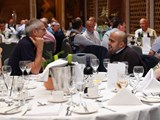 More than 60 people attended this year's Summer Seminar, which considering the relatively short period between last year's delayed event and this one, was a creditable result. You can see a gallery of photos here.
The presentations followed the broad theme 'What's new in FTTX?' and covered a broad canvas of developments, technology and opinion.
The evening drinks (free bar) and dinner provided an excellent opportunity to renew friendships and acquaintances, and no new enmities were reported. Our after-dinner speaker was informative and entertaining, and as always provides a real challenge to surpass next year.
All presentations can be found here.
We'll shortly be carrying out a survey amongst the members to confirm the best dates and venue for next year's seminar but, provisionally it's booked for Whittlebury Hall on Wednesday 14th & Thursday 15th June.
FIA input to City & Guilds 3668
About four years ago, FIA directors Chris Atkin and John Colton started a conversation with City and Guilds with the aim of making the 3667 Communications and Networking qualification fit for the modern day. City and Guilds listened to the proposal and agreed to undertake the massive task of updating the syllabus and exam. The result is a new suite of qualifications grouped under City and Guilds 3668. This is changing the face of the industry.
The new Level 3 qualifications embrace blown fibre, wireless networking and cellular networks. Design, project management and testing are also included, as is external cabling.
David Wackett of City and Guilds commented, "City & Guilds are very pleased that the new 3668 Communications Cabling qualifications are now available and have recognition for the relevant ECS Network Installer cards. These qualifications have been developed in partnership with industry experts, and our delivery partners, to support skills development in a fast-growing sector, that is vital to the growth of the UK economy now and into the future".
The FIA is very grateful to City and Guilds for persevering with the project and bringing it to fruition.
The new C&G 3668 course is available from FIA Approved Training Providers.
We will shortly be publishing a more detailed description of the 3668 qualification.
Worktree - 40 mins online volunteering to help young people into our industry
For the fibre optic industry to continue to thrive and grow, we need young people to be employable and motivated to work in it. You can help here but joining a 40-minute online session with other guests where you answer questions from secondary school students about your work.
FIA Vice Chair, Alan Bullen, is Chair of Worktree, a national charity that has a powerful theory of change:  the more answers young people get to their questions about work, the clearer and more motivated they become to visualise and steer their work futures.
The sessions are easy, informative and fun so click here to book a session: There's no prep required and 96% of volunteers say they feel more positive about their work afterwards. If you have any questions, call Alan Bullen on 07968 485265 or email alan.bullen@lynxnetworks.co.uk
Website: https://worktree.org/
To book a session: https://worktree.org/events/
FIA Short Information Documents (SID)
The FIA has for some time produced detailed documents covering requirements of standards for cabling specification, installation and testing. These documents are well received and well used as reference sources by our members, but in recent years the rate of change and publishing of new standards in our sector has slowed as the industry has matured.
Although the need for standards updates has declined the huge increase in fibre installation has resulted in a demand for skilled, experienced and knowledgeable engineers that has out-stripped the talent pool available in most countries and regions. Consequently staff are increasingly being thrown in at the deep end as they are required to specify or design in areas beyond their current skill set or expertise.
Clearly where people recognise gaps in their knowledge or experience, they can seek training to fill such gaps but in today's fast paced world that can be too late and the FIA has seen several examples of increased costs due to an oversight in the specification or design.
As an aid to our members the FIA has started a new initiative to produce some Short Information Documents (SIDs). The purpose of these is to explain in brief, bite-size fashion, the key points of a technology or product type and to remind the reader of any key considerations.
As a first example to establish the template the FIA has selected Micro-Ducts. This first SID explains why cable and micro-duct size need to be carefully considered and will be available very shortly on the FIA website once proof-reading and corrections are complete. It is expected that further SIDs on various other topics will be steadily produced thereafter, with the FIA already having a short list of candidate topics. We are however always keen to help our members and if any of you have a topic you would like us to summarise in a SID or cover in more detail in a seminar then we are always keen to hear suggestions.
For those of you who can't wait for the first SID on Micro-ducts, the incredibly brief one-line summary is: just because you can push something into a hole it doesn't mean you should!
FIA Accredited Installers
We continue to celebrate our Accredited Installers:
ABM ELECTRICAL CONTRACTING LTD.
BIRCH TECHNICAL SERVICES LTD.
BREXONS LTD.
CIS SERVICES LTD.
COMPUTER-LINKS LTD.
DATANET SOLUTIONS LTD.
FES LTD.
GCL LTD.
INFINET DATACOMS LTD.
ITM COMMUNICATIONS LTD.
LYNX NETWORKS plc.
NETWORX3 GROUP LTD.
PR POWER INSTALLATIONS LTD.
RAMPTEC LTD.
REMARK GROUP.
SPLICE GROUP EUROPE LTD.